The following is a list of choral repertoire from the most recent concert back to 2009 (when David F. Donathan became the Artistic Director/Conductor).
Spring, 2017 – Sounds of the Cinema
Choral Music Composed Specifically for the Movies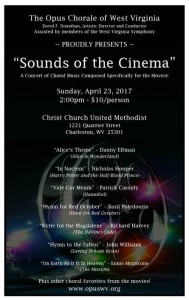 20th Century Fox Fanfare – Alfred Newman
Kyrie from the Berliner Mass – Arvo Part (The Avengers)
Zadok the Priest – George Fredric Handel (The Choir)
Chant, Morning Hymn & Alleluia – Rogers & Hammerstein (The Sound of Music)
Alice's Theme – Danny Elfman (Alice in Wonderland)
In Noctem – Nicholas Hooper (Harry Potter and the Half-Blood Prince)
Hogwart's Hymn (orchestral) – Patrick Doyle (Harry Potter and the Goblet of Fire)
Vide Cor Meum – Patrick Cassidy (Hannibal)
Hymn for Red October – Basil Poledouris (Hunt for Red October)
Gabriel's Oboe (orchestral) – Ennio Morricone (The Mission)
On Earth As It Is In Heaven – Ennio Morricone (The Mission)
Hymn to the Fallen – John Williams (Saving Private Ryan)
Kyrie for the Madgalene – Richard Harvey (The DaVinci Code)
Exsultate Justi – John Williams (Empire of the Sun)
Non Nobis Domine – Patrick Doyle (Henry V)
Winter, 2016 – O Radiant Dawn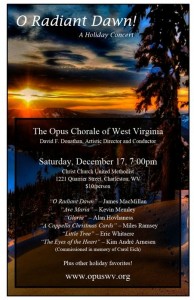 O Radiant Dawn – James MacMillan
Gloria (from Magnificat) – Alan Hovhaness
Ave Maria – Kevin Memley
O Magnum Mysterium – Kevin Memley
In Dulci Jubilo – R.L. Pearsall
Alleluia – Alejandro Consolacion II
Little Tree – Eric Whitacre
Mid-Winter – Bob Chilcott
Candlelight Carol – John Rutter
The Heavenly Son – James Murray, edited by Larry Nickel
A Cappella Christmas Cards – Miles Ramsey
The Eyes of the Heart: A New Psalm 121 – Kim Andre Arnesen
(world premiere, commissioned in memory of Carol Eich)
Spring 2016 – Vocal Vistas
The Music of Anton Bruckner and Charles Ives
(and music of Giovanni Gabrieli, Paul Mealor and Will Todd)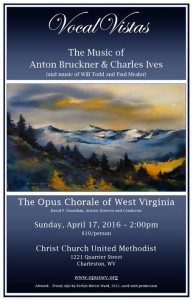 Omnes gentes plaudit for Four Choirs – Giovanni Gabrieli
Psalm 100 – Charles Ives
Psalm 67 – Charles Ives
She Walks in Beauty – Paul Mealor
Encircled – Will Todd
Ave Maria – Anton Bruckner
Os Justi Anton Bruckner
Tota Pulchra es Maria
Christus Factus Est – Anton Bruckner
Fall 2015 – From Darkness to Light
(Special Guests – Horace Mann Middle School Men's Chorus)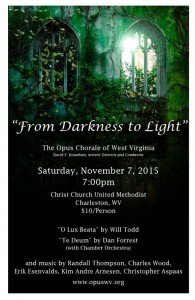 O Lux Beata – Will Todd
Hail Gladdening Light – Charles Wood
Te Deum (We Praise Thee, O God) – Dan Forrest
Awake, My Heart – David Sisco
Spirit of Life – Chritopher Aspaas
Love's Onward Journey – Kim Andre Arnesen
Tell My Father – Andrea Ramsey
Near My God, to Thee – arr. James Stevens
Spring 2015 – Requiem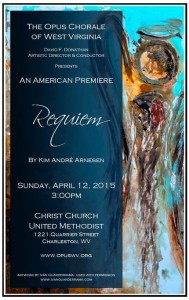 Angele Dei – Susan LaBarr
Requiem (American Premiere) – Kim Andre Arnesen
Christmas 2014 – "Starry Night"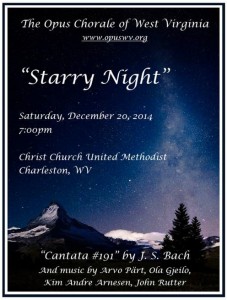 Creator of the Stars of Night – Plainsong, Mode IV, arr Richard Peek
Magnificat – Arvo Part
O Day Full of Grace – F. Melius Christiansen
Cantata #191, Gloria in excelsis deo – J.S Bach (with chamber orchestra)
Stars – Eric Esenvalds
Two Carols from Christmas Carols, Volume 2 – Ola Gjeilo
-The Holly and the Ivy
-Away In A Manger
A Spotless Rose – Paul Mealor
Cradle Hymn – Kim Andre Arnesen (with strings)
What Sweeter Music – John Rutter (with strings)
Fall 2014 – "For the Fallen: A Commemoration of the 100th Anniversary of the Beginning of WWI."
Narration by Bishop William Boyd Grove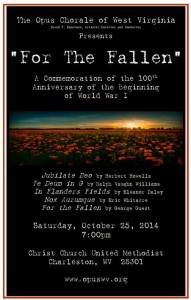 For the Fallen – George Guest
Te Deum in G Major – Ralph Vaughan Williams
Cherubim Hymn – Sergei Rachmaninoff
Gloria – Frank Martin (from the Mass for Double Choir)
Jubilate Deo (Collegium Regale) – Herbert Howells
I Vow To Thee My Country – Rice/Holst
Hymn to the Eternal Flame – Stephen Paulus
Even When He Is Silent – Kim Andre Arnesen
In Remembrance – Eleanor Daley (from Requiem)
In Flanders Fields – Eleanor Daley
Nox Aurumque – Eric Whitacre
God Shall Wipe Away All Tears (The Armed Man) – Karl Jenkins
Spring 2014 – "Vast Eternal Sky"
A portion of this repertoire was also presented in Nashville, TN in concert with the Nashville Chamber Singers.  A portion of this repertoire was repeated material from previous concerts in preparation of  creating a recording.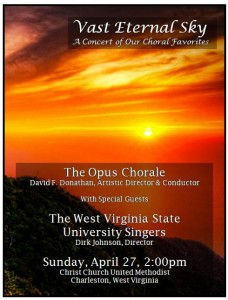 Praise Ye the Lord-Randall Thompson (from 12 Canticles)
God is a Spirit – Randall Thompson (from 12 Canticles)
Prayer of King Henry VI – Henry Ley
8 Partsongs – Charles Villers Stanford
Stopping by Woods – Ron Caviani
Shenandoah – James Erb
Hark, I Hear the Harps Eternal – arr. Alice Parker
Across the Vast Eternal Sky – Ola Gjeilo
This Little Light of Mine – Moses Hogan
Ask the Watchman – Paul Caldwell/Sean Ivory
True Light – Keith Hampton
Fall 2013 – "Words from Paradise"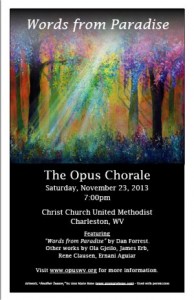 Ubi Caritas – Ola Gjeilo
Words from Paradise – Dan Forrest
I. Holy
II. Hallelujah
III. Selah
IV. Hosanna
V. Amen
Salmo 150 – Ernani Agular
The Worlds Above – Ben Allaway
La Lumiere – Rene Clausen
The Snow – Edward Elgar
O Danny Boy – arr. Joseph Flummerfelt
Shanendoah – James Erb
Spring 2013 – "Sunrise Mass"
(with chamber orchestra)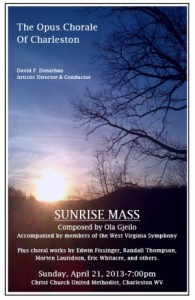 O Gracious Light – Howard Helvey
Lux Aeterna – Edwin Fissinger
Ye Shall Have a Song (Peaceable Kingdom) – Randall Thompson
Alleluia – Eric Whitacre
Sunrise Mass – Ola Gjeilo
Measure Me Sky – James Muholland
Choose Something Like a Star – Randall Thompson
Sure On This Shining Night – Morten Lauridson
In That Great Gettin' Up Morning – arr. Mark Hayes
Christmas 2012 – "O Magnum Mysterium-A Triptych"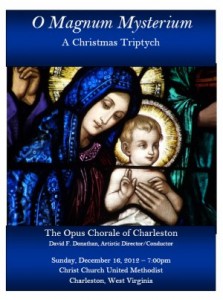 Centone on Two Carols – Griffith Bratt
O Magnum Mysterium – Tomas Luis de Victoria
In Dulci Jubilo – R. I. Pearsall
En natus est Emmanuel – Michael Praetorius
O Magnum Mysterium – Francis Poulenc
A Spotless Rose – Herbert Howells
The Shepherd's Carol – Bob Chilcott
O Magnum Mysterium (Serenity) – Ola Gjeilo
Lux Aurumque – Eric Whitacre
Deck the Hall – Paul Brandvik
Alfred Burt Carols – Alfred Burt
-Caroling, Caroling
-All on a Christmas Morning
-We'll Dress the House
We Wish You A Merry Christmas – Bob Chilcott
Jingle Bells – arr. David Wilcocks
Ding, Dong, Merrily on High – Mack Wilberg
Have Yourself a Merry Little Christmas – Derric Johnson
O Magnum Mysterium – Morten Lauridson
Fall 2012 – "Madrigalia"
(all a cappella concert)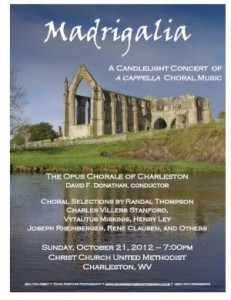 Prayer of King Henry VI – Henry Ley
Abendlied – Josef Rheinberger
Twelve Canticles – Randall Thompson
Set Me As a Seal – Rene Clausen
Cantate Domino – Vytautas Miskinis
Beati Quorum Via, Opus 88 – Charles Stanford
Now is the Month of Maying – Thomas Morley
Sing We and Chant It – Thomas Morley
From 8 Partsongs – Charles Villers Stanford
-Chillingham
-Blue Bird
Shenandoah – Derric Johnson
My God is a Rock – Alice Parker/Robert Shaw
Winter 2011 – "Images of Winter"
(with chamber orchestra)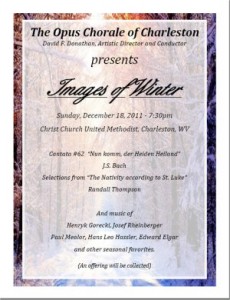 Verbum Caro Factum Est – Hans Leo Hassler
Cantata 62, Nun Komm, der Heiden Heiland, BWV 62 – J.S. Bach
Abendlied, Opus 69 – Josef Rheinberger
Three selections from The Nativity According to St. Luke – Randall Thompson
-Magnificat
-Nowell
-Lullaby
Ubi Caritas – Paul Mealor
Totus Tuus, Opus 60 – Henryk Gorecki
Winter Cantabile – John Eccard
The Snow – Edward Elgar
Stopping By Woods – Ron Caviani
O Come, O Come Emmanuel – Steven Taylor
Silent Night – Craig Courtney
Spring 2011 – "Songs from England, Canada, France, Germany and the U.S."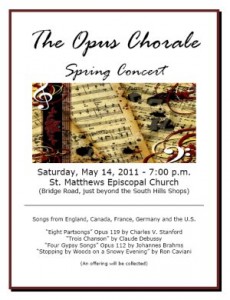 Feller from Fortune – Harry Somers
Four Gypsy Songs, Opus 112 – Johannes Brahms
From Trois Chanson – Clause Debussy
I-Dieu! Qu'il la fait bon regarder
III–Yver, vous nester qu'un villain
Eight Partsongs, Opus 119 – C. V. Stanford
My Shepherd Will Supply My Need – Mack Wilberg
Sure On this Shining Night – Samuel Barber
Stopping By Woods – Ron Caviani
Fall 2010 – "Baroque and Beyond"
(with a chamber orchestra)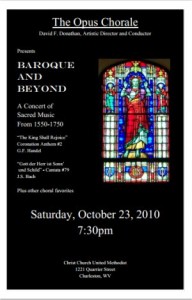 Prayer of King Henry VI – Henry Ley
Sing Joyfully – William Byrd
Cantata 79, BWV 79 (Got, der Herr ist Sonn' und Schild) – J.S. Bach
Crucifixus – Antionio Lotti
Cantate Domino – J. P. Sweelinck
Coronation Anthem, "The King Shall Rejoice" – G. F. Handel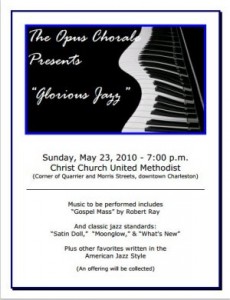 Gospel Mass – Robert Ray (with piano, drums, bass)
Satin Doll – arr. Teena Chinn
What's New – arr. Russell Robinson
Moonglow – arr. Darmon Meader
Yesterday – arr. Bob Chilcott
Shenandoah – Derick Johnson
Christmas 2009 – "Carols Old and New"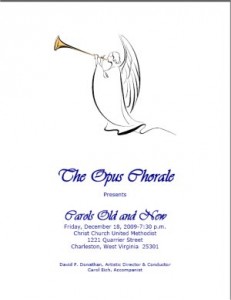 O Come, O Come, Emmanuel – Alice Parker/Robert Shaw
En natus est Emmanuel – Michael Praetorius
Hodie Christus Natus Est – J.P. Sweelinck
The Lamb – John Taverner
Christmas Cantata – Daniel Pinkham (with brass quartet)
Lux Aurumque – Eroc Whitacre
Tomorrow Shall Be My Dancing Dai – John Gardner
What Child is This – arr. Bruce Greer
Ding, Dong, Merrily on High – Mack Wilberg
Twas the Night Before Christmas – Harry Simone
We Wish You a Merry Christmas – Derric Johnson
Spring 2009 – "Mozart & More"
(with chamber orchestra)
Sing, Sing O Ye Heavens – Edwin Fissinger
Surely He Has Borne our Griefs – Evan Copley
Ave Verum Corpus – W. A. Mozart
Laudate Dominum (from Vespers) – W. A. Mozart
Jubilate Deo – W.A. Mozart
The Spatzen (Sparrow) Mass – W. A. Mozart