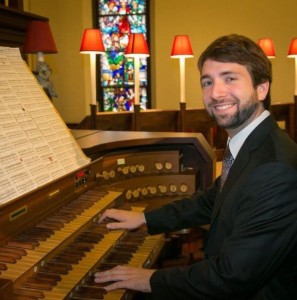 Christopher Engel currently serves as full-time Director of Music at First Baptist Church of St. Albans, WV.  Having performed several times with the Opus Chorale in recent years, it is with great joy that Chris now serves as the ensemble's accompanist.  Chris received his Master of Music in Organ Performance from Westminster Choir College in 2017 and his Bachelor of Music in Organ Performance from University of North Carolina School of the Arts in 2014.  A familiar face to the Charleston musical community, Chris has previously served as Director of Music at Kanawha United Presbyterian Church, as well as accompanist for the West Virginia Symphony Chorus, piano faculty at West Virginia State University, and organ recitalist for FestivALL and AGO concerts.
Originally from Ocean City, MD, Chris began playing the guitar at age 13.  Shortly thereafter he began taking piano lessons at age 14, having been greatly inspired by the keyboard playing of Keith Emerson of Emerson, Lake & Palmer.  It was at age 17 that he decided to pursue the pipe organ in addition to his piano studies.  While at University of North Carolina School of the Arts, Chris served as pianist for the UNCSA Jazz Ensemble from 2012-2014.  During his graduate studies at Westminster Choir College, Chris had the pleasure of singing with the Westminster Symphonic Choir, having performed at venues such as the Kimmel Center, David Geffen Hall, and Carnegie Hall.  He enjoys listening to a wide variety of music, including classical, opera, country, bluegrass, rock, jazz, blues, and Celtic folk music.
Outside of music, Chris enjoys hiking, reading, ziplining, traveling, ballroom dancing, and exploring wild, wonderful West Virginia.
Some of his favorite choral works include Mozart's Great Mass in C Minor, Verdi's Requiem, Musikalische Exequien by Heinrich Schütz, and Rachmaninoff's Vespers.